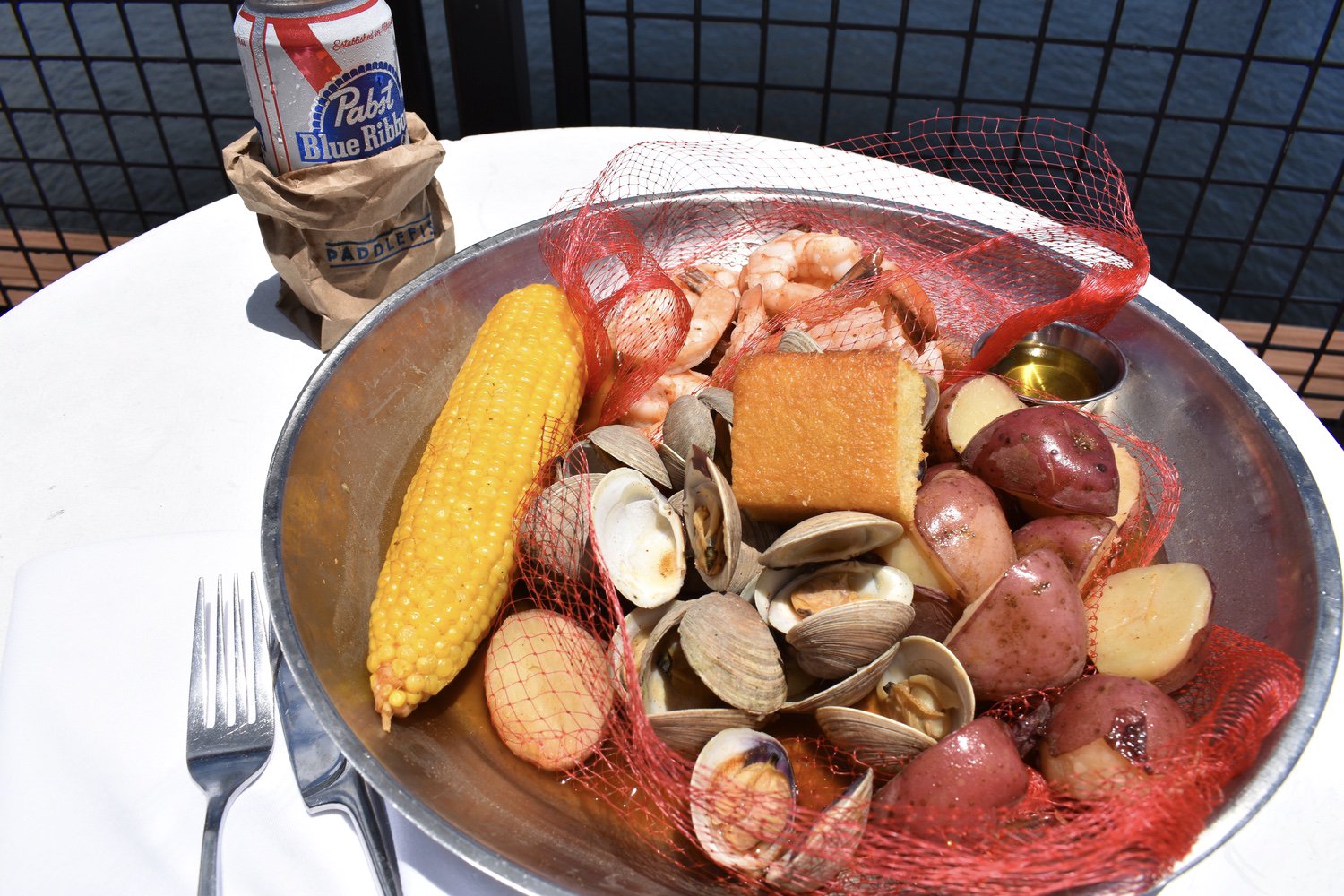 Its the middle of the day and you are looking for a place to eat lunch.
Head on down to Disney Springs and give Paddlefish a try.  @PaddlefishORL
From the best seafood around…(Dont Believe me????) Well they just so happened
to be nominated for best seafood in Orlando Weekly best of  awards. Vote Here!!!!
For you land lovers there is plenty to make you  happy as well.   We recommend a
little bit of both lets say the best of both worlds.
No matter what you order we are sure you will leave happy.  We highly recommend
one of their boils.   Check out the lunch menu below and let us know what you had!
LUNCH MENU
Maque choux, fried green tomato, remoulade 17
BEEF SKEWERS
Hazelnut romesco, pickled onions 13
CALAMARI
Shishito, peppadew piri piri 16
JUMBO LUMP CRAB TOPPED FRIES
Skin-on french fries, lump blue crab, Louie dressing 14
FRIED GREEN TOMATOES
Elote, queso fresco, remoulade 9
LOBSTER CORN DOGS
Sweet chili aioli 16
LITTLENECK CLAMS
White wine, garlic, lemon butter 14
NEW ENGLAND CLAM CHOWDER
Bacon, potatoes, cream
Cup 6 / Bowl 9
LOBSTER BISQUE
Sherry cream
Cup 6 / Bowl 9
GREEN SALAD
Romaine hearts, cucumber, grape tomato, red onion, roasted shallot vinaigrette
Full 12 / Side 9
CAESAR SALAD
Romaine hearts, sourdough crouton
Full 11 / Side 8
WEDGE SALAD
Iceberg, tomatoes, red onions, bacon, blue cheese dressing
Full 14 / Half 11
add chicken 5 | add shrimp 10 | add salmon 12
KING CRAB
Dutch Harbor, AK 65
SNOW CRAB
Gulf of St. Lawrence, Canada 40
MAINE LOBSTER
1 1/4 pound 65
All served with sweet corn on the cob & new potatoes
TABLESIDE LOBSTER GUACAMOLE
Maine lobster, tortilla planks, tajin (SERVES 4) 36
AHI POKE *
Sweet black soy, yuzu, avocado, cucumber pickle 16
CRAB CEVICHE *
Blue crab, avocado, bell pepper, jalapeno, cilantro, lime, tortilla chips 15
SHRIMP COCKTAIL *
Jumbo shrimp, classic cocktail sauce 20
CHILLED TRIO *
Peel & eat Key West shrimp, crab ceviche, ahi tuna poke, tortilla chips (SERVES 3) 40
MARKET FRESH OYSTERS †
Cocktail sauce 3 EACH
LOBSTER ROLL
Maine lobster, lemon infused mayonnaise, celery, split top bun 31
CRAB CAKE "BLT"
Bacon, avocado, cheddar, lettuce, beefsteak tomato, remoulade, ciabatta 20
CAJUN CHICKEN
Beefsteak tomato, lettuce, onion, remoulade, ciabatta 12
CAPRESE
Fresh mozzarella, beefsteak tomato, basil aioli, ciabatta 12
CHICKEN CAESAR WRAP
Romaine, parmesan, tomato, whole wheat wrap 12
BLACKENED CATFISH
Lettuce, tomato, onion, remoulade, brioche 17
FRIED CLAM ROLL
Ipswich whole bellies, tartar sauce, pickles, split top bun 16
CRISPY FISH
Fried flounder, tartar sauce, pickle, romaine, tomato, red onion, brioche 16
THE BURGER
9 ounce proprietary blend, house-made pickles, red onion, pimento cheese, brioche 19
FILET MIGNON
8 ounce, mashed potatoes, asparagus, bearnaise 44
CHICKEN BREAST
Carolina mop sauce, edamame-smoked bacon succotash 20
FISH & CHIPS
Beer battered flounder, skin-on fries, tartar sauce 28
CRISPY SHRIMP
Flash fried, cocktail sauce, skin-on fries 19
CATFISH
Cornmeal crust, edamame-smoked bacon succotash, creole mustard 22
SALMON
Spring vegetable, couscous 34
LINGUINE & CLAMS
Cedar Key littlenecks, chourico, white wine, garlic, lemon, parsley 26
VEGETARIAN PASTA
Linguine, garlic, olive oil, market vegetables 18
FISH TACOS
Market catch, red cabbage slaw, papaya-mango salsa, sweet chili aioli 17
SHRIMP PASTA
Linguine, Florida Rock shrimp, asparagus, tomato, crab broth 22
SOUP & SALAD
Choose a cup of soup & any side salad 14
HALF CHICKEN CAESAR WRAP
Choose either a cup of soup or any side salad paired with half a chicken caesar wrap 15
Enjoy our made-to-order boils all served with sweet corn on the cob, red potatoes & cornbread.
PEI MUSSELS
1 pound 19
LITTLENECK CLAMS
24
SHRIMP
1/2 pound 26
SNOW CRAB
10 ounces 29
ALASKA KING CRAB
10 ounces 42
MAINE LOBSTER
1 1/4 pound 65
Visit our Sponsors